Custom Intralox Activated Roller Belt Conveyors
RMI Industrial Services has been providing custom-built and off-the-shelf intralox activated roller belt conveyors in conjunction with Intralox® – and these Intralox belt conveyors are exceeding expectations and providing a basis for innovation, quality and unparalleled commitment for years to come.
Intralox belt conveyors were first invented in 1971, as a product called "modular plastic conveyor belting".  To date, Intralox has equipped more conveying projects world-wide than any other modular plastic belt company.
Intralox belt conveyors come in 400 combinations of belt sizes, and ship 90,000 units a year worldwide with a 99.9% on-time record.   Intralox belt conveyors have applications in the automotive industry, food and beverage, material handling, tire production, warehouse distribution and many many more.   With over 1000 employees and 50 million parts in stock at any times, Intralox guarantees fast service 100% money-back performance guarantee.
Finally, with $5 million a year being invested into research and development, Intralox belt conveyors are more than a smart partnership forRMI Industrial Services – traveling together into the future of innovation.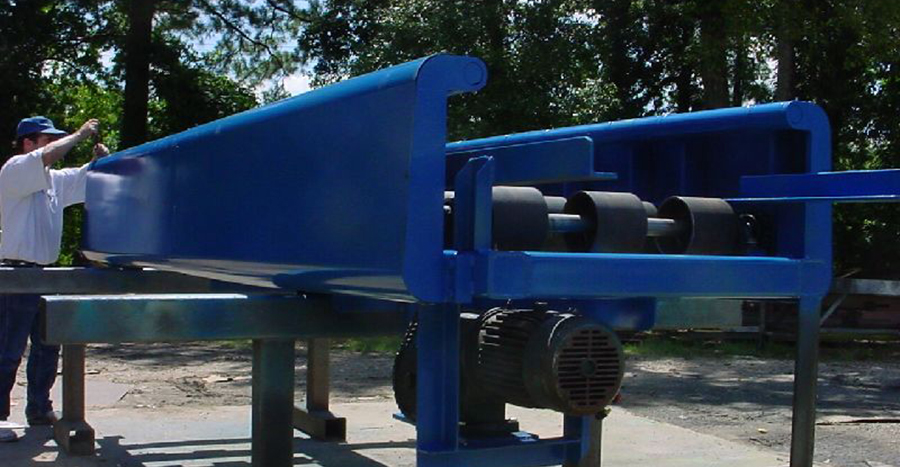 How can RMI help?
RMI Industrial Services has designed, fabricated, and installed many custom conveyors using Intralox belts.
RMI Industrial Services supports and provides the same Intralox outstanding customer service. RMI Industrial Services realize that even though Intralox belt conveyors are just one part of a large system, even a small malfunction can shut down production, which can cost hundreds to thousands of dollars an hour.   That's why our and Intralox's customer service is available at any time.
Intralox belts are made of plastic modules and are assembled in an interlocked, bricklayed pattern with full-length hinge rods—an inherently strong design. Driven and tracked by plastic sprockets, Intralox belts have the qualities that plant operators and designers look for: corrosion resistance, positive drives, high strength, low friction, abrasion resistance, and the ability to be built to almost any width and length, with a variety of flights, sideguards, and other accessories.